Strengthen Your Heart, Calm Your Mind.
About Course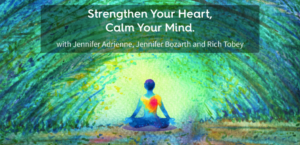 Strengthen Your Heart, Calm Your Mind.
with Jennifer Adrienne, Jennifer Bozarth and Rich Tobey
---
Are you looking to improve your health, wellbeing, and relationships? This supportive environment and ancient toolset for inner work is an inviting and deep place to get started in your meditation journey or to strengthen the path you are already on.
With 3 sessions per week you can establish a regular meditation practice, work with experienced teachers, and meet like-minded and like-hearted people who are working toward similar goals of self development. 
Jennifer B., Jennifer A. and Rich will gently explore aspects and applications of the foundation practice of Heart Rhythm Meditation.  You can learn this reliable way of self-regulation, which enhances your well-being through emotional awareness, emotional balance, emotional resilience, positive affect, optimism, and improved interpersonal relationships. Heart Rhythm Meditation enhances the whole human experience; it integrates the soul, heart, mind and body into one coherent self.  
Jennifer Adrienne  is the Director of Education at iamHeart. She has been teaching meditation for many years as well as working with the community of the heart. She is a graduate of iamU and the iamHeart Mentoring Gradate program and is a current iamHeart mentor.
Basira Jennifer Bozarth lives in Chicago, and has practiced heart rhythm meditation for over 15 years.She is a graduate of IAM-U class of 2017, as well as iamHeart's Graduate Program in Spiritual Leadership in 2019. Her daily meditation practice has brought her balance, energy, and increased awareness. She loves teaching HRM, to help others discover these gifts and more.
Rich Tobey has been practicing iamHeart's Heart Rhythm Meditation since 2008. He is a mentor for iamU students, Hurqalya Healer and Spiritual Leader which is the three graduate programs of iamHeart. As VP of Engineering at Huma.ai, he leads a development team of a software platform that is most easily known as "Alexa for medical research." He strives to understand and find the balance between the inner and outer life so that they are integrated and depend upon one another. He is continually amazed at the magic and blessings that this brings into his life.
Show More
Course Content
Week 1: The Benefits of Posture and the Conscious Breath
Strengthen Your Heart, Calm your Mind Episode 1

Strengthen Your Heart, Calm your Mind Episode 2

Strengthen Your Heart, Calm your Mind Episode 3
Week 2: Energizing Your Practice with the Rhythmic and Full Breath
Week 3: Harmonize with The Swinging Breath
Week 4: Using the Breath to Feel Your Heart
Student Ratings & Reviews
No Review Yet